University Laboratory Furniture
Klick have expertise in the design and fit-out of university laboratory furniture. We can deliver cutting edge laboratory facilities to inspire students and attract the best candidates.
With increasing pressure for universities to offer more student places and expand their facilities it is critical to make the most of existing space and offer value for money.
University Laboratory Fit Out – The Importance of Cutting Edge Design
Klick offer a free design service and can help address some of the challenges faced when designing a modern university laboratory.
Attracting students – The laboratory environment can have a positive impact on recruitment. Having a "lab of the future" with cutting edge facilities will help attract top students.
Student numbers – Klick can assist with planning the room layout to make the most of the available space in order to safely accommodate the required number of students and maximise linear bench space.
Student engagement – Well planned attractive facilities can have a huge impact on student engagement. Adding the latest technology to support the delivery of lectures will also enhance a students' experience.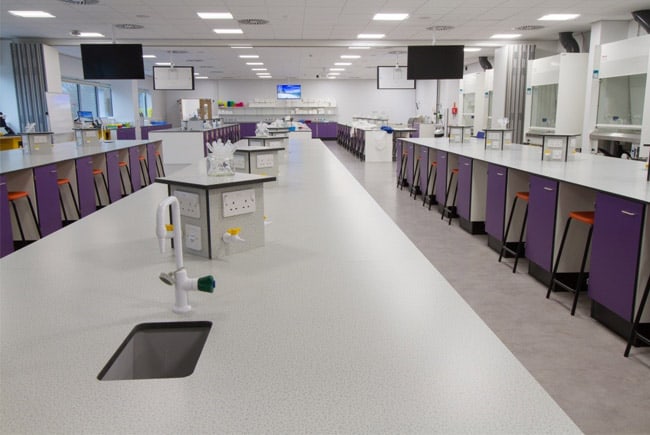 Ceiling mounted screens at University of York's Super Lab are used to relay demonstrations.
Flexibility –Students have different research fields and a university laboratory needs to adapt and cater to different research topics.  Klick can advise on mobile laboratory furniture options to add flexibility to your lab.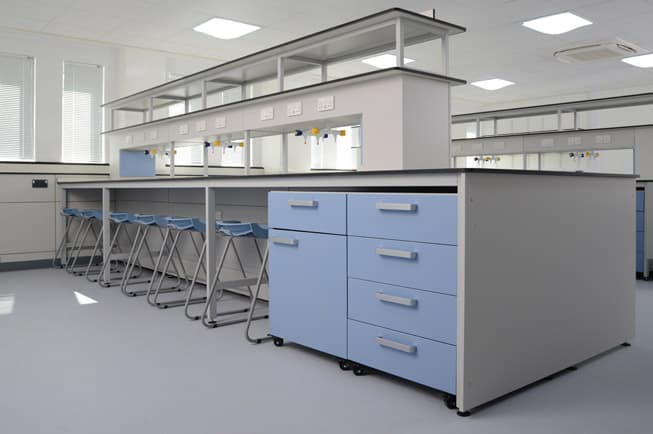 Sufficient Storage – Our designers are storage experts and can advise on solutions for equipment and chemical storage to ensure that workspaces are maximised and kept clear.
Bridging the gap between education and industry – A university laboratory needs to prepare students for careers beyond university. By replicating the working environment of a more commercial laboratory students are better prepared for industry and benefit from a smoother transition.
Prep room design – A busy university research lab relies on the support of technicians. Klick can offer advice on chemical storage and distribution for large university teaching labs.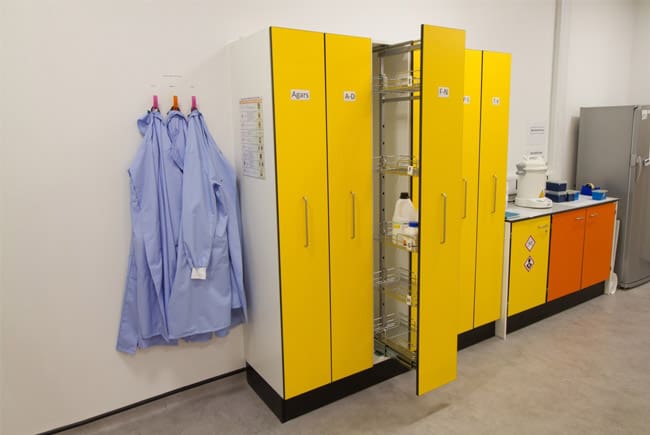 University prep room with chemical cupboard and bespoke pull-out drawers.
Klick offer a one stop shop solution for university facility managers.
We understand the importance of delivering the highest quality university laboratory furniture, with all the facilities needed to ensure the laboratory is adding value to the university itself.
Klick's Free Design Service For University Lab Furniture Includes: