Klick Technology was established in 1981 by Len Whitehurst and it remains a family business to this day.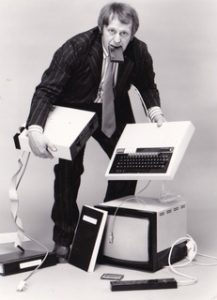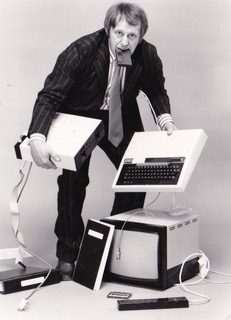 Len is pictured here in a 1980's publicity shot to launch the highly successful Klick computer trolley which, in the days of one computer per school, was revolutionary for transporting all the necessary equipment around.
In our 35 years of delivering successful projects we have acquired an unrivalled depth of knowledge which is critical when designing and managing the complex projects we work on today. We have built up a long standing team of diligent people with an honest approach, who really want to please.
Our portfolio of discerning clients spans a range of sectors including education, health and commercial institutions. We deal with a cross section of projects from small primary schools to multi room university fit-outs and strive for the very highest standards across the board.
We aim to be a trusted partner by providing exceptional service and support. Our commitment to customer satisfaction is underpinned by a high level of integrity and a genuine desire to deliver outstanding projects according to an agreed brief.