26 Jan

Lab Construction – Converting An Empty Warehouse

When given a blank canvas who do you turn to for advice on designing your new specialist laboratories, offices and breakout spaces?
The Benefits of Using A Lab Construction Specialist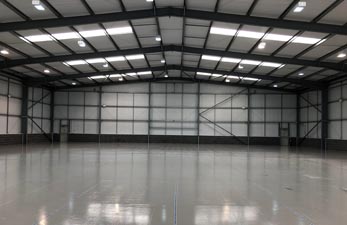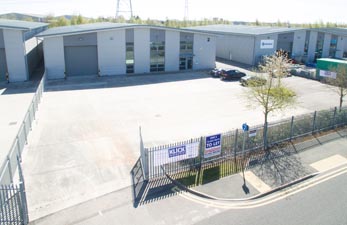 It is important to opt for a lab construction company with an understanding of the laboratory environment. A specialist lab company will have the experience to design a workplace to optimise workflow and productivity. This knowledge combined with an in-depth experience of construction, improves the integration of the process, making any construction project more seamless for the client.
Construction of the Lab Facility for Biofortuna
When biotech firm Biofortuna agreed the lease on an empty warehouse shell at Deeside Industrial Park in Flintshire, they needed a construction company to convert the site into their flagship headquarters. Biofortuna manufacture diagnostic tests used globally for conditions from Covid to lung cancer. They wanted to combine a number of existing sites into one building in order to streamline their operations.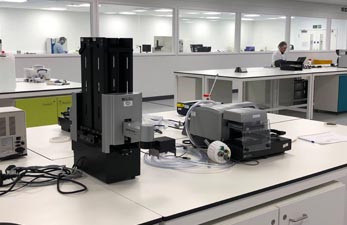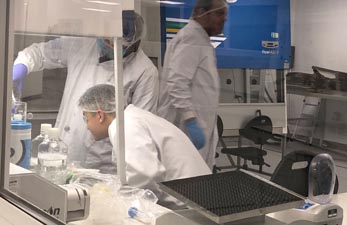 Klick were awarded the contract, in the words of Biofortuna's CEO Dr Nick Ash,
"because of their obvious experience in specialist laboratory fit out. They interpreted and really understood the brief, and importantly for me they understood how critical this project is for Biofortuna."
Work commenced in April with a six month lead time to transform the 16,500 sq ft empty warehouse into a fully functioning lab and manufacturing facility.
On the ground floor partitioning was erected to divide up the floorspace for the following:-
Humidity controlled clean room
4 Labs including a pre laboratory, post laboratory & dirty laboratory
Walk in freezers and refrigeration room
Stability storage rooms
Wash up room
Open plan office space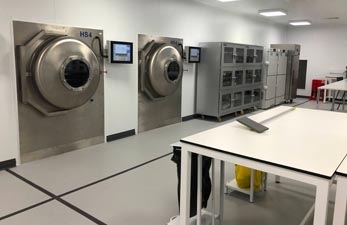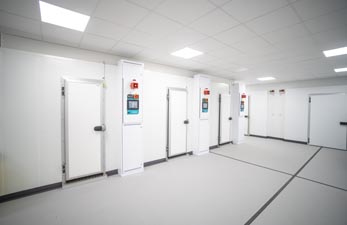 Specialist HVAC systems were installed to support all the various laboratory functions.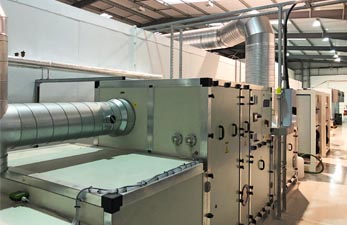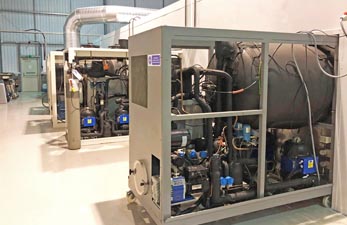 A fob entry system was also specified to restrict access to specific areas. In addition to general security this helps to control movement of the staff so that they follow the correct path from the changing area and into the various different laboratories in the correct sequence.
A 3,600ft mezzanine floor was constructed above the existing offices to accommodate:-
Canteen area
Breakout space
Directors' offices
Boardroom with an interactive presentation screen and HDMI connections
Additional toilet facilities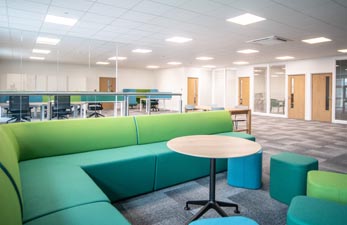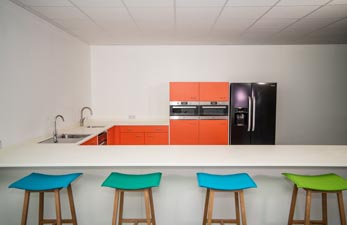 Open Plan Office
The brief was also to provide a modern open plan office environment with break-out spaces to allow for flexible working and collaboration. Large team tables with charging points were selected to accommodate relaxed meetings but also allow for hot desking. Large comfy sofas are ideal for relaxing during breaks or for employees who prefer to work in a more informal way. High backed sofa booths were also installed to provide a semi-enclosed workspace suitable for 1:1 meetings.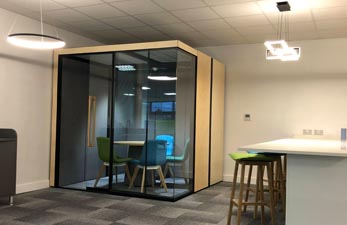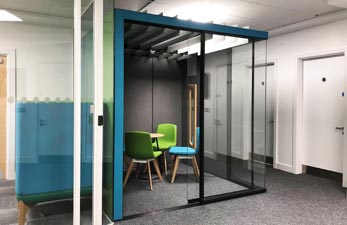 As most of the office space is open-plan, two soundproofed meeting pods were installed which are ideal when privacy is needed or to offer a quieter space for meetings. These flexible free-standing units are demountable and can be relocated within the building or completely moved to an alternative location.
Future Proofing the Laboratory Construction
One of the main priorities for Biofortuna was to allow for further expansion of the business. With plans to double the number of employees over the next 18 months, this required a flexible approach in designing the building and how the labs would be equipped.
Flexible Lab Furniture
The lab areas are all bespoke and designed to allow optimum flexibility. A combination of free-standing lab tables and mobile cabinets allow for the furniture layouts to be changed with minimal disruption. This means any changes in workflow or staffing levels can easily be accommodated at short notice; equipment can also be moved without the need for outside experts which in turn minimises downtime. The flexible lab areas are proving to be an ideal environment for the scientific team at Biofortuna to develop and expand their molecular diagnostics business.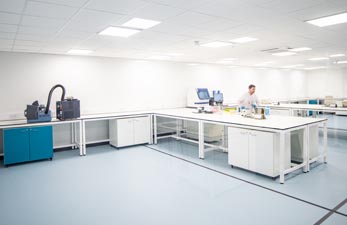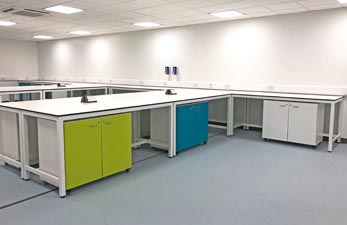 Flexible Service Provision
Data points and electrical sockets are provided via trunking that runs around the perimeter of the laboratories. In the central lab the lab workstations receive power through a daisy-chained network of cables which are run in cable management systems with services supplied by service poles.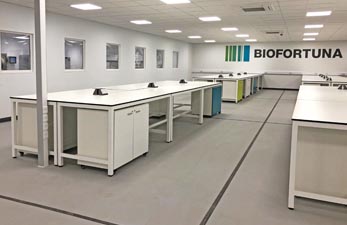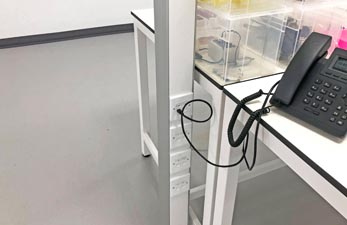 During this project Klick worked closely with the team at Biofortuna to ensure their key objectives were met.
The limited timeframe meant that a flexible approach was required during the construction phase to meet the variations that inevitably occurred during a complex project of this scale. But now the building is complete it has resulted in an agile workplace that ideally suits Biofortuna's needs and offers a positive experience for visiting clients and employees.
The new state-of-the-art site will double Biofortuna's manufacturing capacity allowing for the formulation, dispensing, manufacture and analysis of more than 10 million reactions per week.
The finished building reflects the expertise of Klick's design and installation teams and has resulted in a facility which is the pride of everyone involved.
If you have a project in mind Klick can coordinate our team of experienced specialists to complete your laboratory construction.  Further details are available in our case study.
Feel free to give us a call on 0161 998 9726 to discuss your project or email us with your details.