08 Dec

Lab Refurbishment Q & A with Chris Baker
Selecting a Lab Refurbishment Supplier
A science lab refurbishment is a significant investment and there are many factors to weigh up before selecting a supplier.
It is important to consider the quality of the furniture and fittings. Any new laboratory will be expected to have a considerable life expectancy and so the specification of the work top material and furniture should be suitable for a high use environment.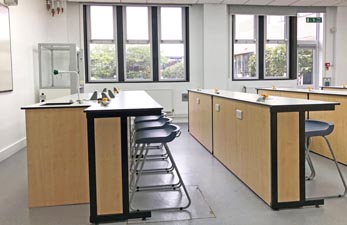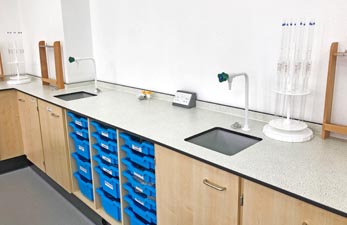 The expertise of any potential supplier should also be investigated. Case studies, testimonials and site visits are all useful to assess if the supplier has a track record of similar projects.
Another key factor is accreditations. Ask about a supplier's quality control and safeguarding procedures.
Following detailed investigation, it should be possible to develop trust in your chosen supplier and have the confidence in them to complete the project to your specification and within the allotted time scale.
Q & A Session Discussing the Laboratory Refurbishment Process
Chris Baker, The Estates Manager from King Edward VI College, Stourbridge was kind enough to share some feedback regarding their recent project to refurbish 3 science labs. His comments may be helpful for anyone considering a refurbishment project.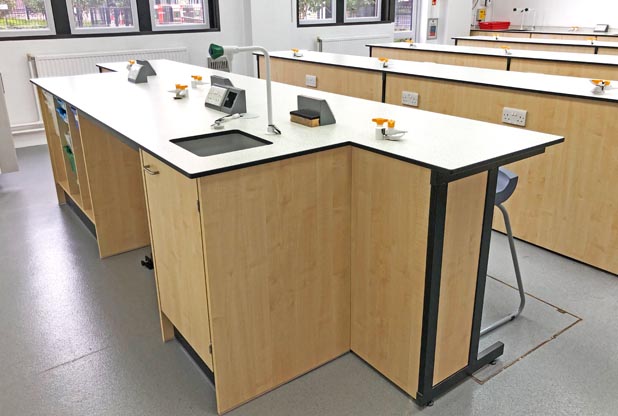 What were the priorities for the college when briefing potential school refurbishment companies?
The brief was to transform the outdated science labs and bring them into the 21st century. It was critical that any potential supplier clearly understood our brief and could execute the refurbishment to our exacting standards. We were looking for a reputable company who would prioritise health and safety and the safeguarding of our pupils.
Why did you select Klick as a supplier?
During the initial stages of research we found their website to be very informative and it displayed a depth of experience. With multiple project case studies it gave our staff ideas of what was possible. It was helpful to see a selection of solutions with different room shapes, layouts and finishes. It soon became clear they were very knowledgeable about designing and managing school refurbishment projects. Ultimately, we had confidence that they could be trusted to provide a quality solution.
Where there any particular challenges?
One lab was an L shaped room, which was to be used for physics. Klick suggested changing the orientation of the room which made the space more usable.
Theory lessons will be delivered in the main area where loose tables were specified on one side of the room which can be moved next to the fixed benching to create a larger work area for practical sessions. This allows enough space to accommodate the use of 2.4m long 'air tracks' required for some physics sessions.
The smaller section of the room is used for bag storage and additional practical space.
Who was involved in the decision-making process?
All stakeholders were included in the design phase including science technicians, subject teachers, heads of faculty & the SLT. It was important for us that the new labs would be practical for the end users.
Can you describe how the installation was managed?

The installation team were helpful with keeping us informed of key dates and working out how to best manage activities for the term time installation. As with any project in an old school building there were a few surprises along the way but these were well managed and the project finished ahead of schedule.
You opted for a term time installation. Was there much disruption to school activities?
The installation was scheduled to start once year 13 had broken up. Activities were planned to minimise disruption during the day, with any noisy work being completed out of school hours. Klick kept things very tidy on site and dust was kept to minimum, even in the corridors outside the 3 labs.
Were you concerned about having tradesmen on site during term-time?
Safeguarding is of paramount importance to the college. Klick understood the importance of this and were thorough with providing the DBS numbers for all their site team. All staff were respectful and polite on site and any disruption was minimal.
Testimonial
"I would definitely recommend Klick's science lab refurbishment service. They completely understood our end goal which was to create a first-class science facility for our 6th form students. The college had a really good relationship with their staff who were well organised in providing programming information and maintained good communication at all times. They managed the project with expertise and the quality of the finished labs is outstanding."
Chris Baker – Estates Manager, King Edward VI College, Stourbridge