25 Mar

School Science Furniture Design. How Can We Add 'Wow Factor'?

Our designers are often asked this question.

School budgets are usually limited and therefore careful consideration is required before changing your school science furniture.

An inspirational environment can improve students' engagement in science and there are several ways to create facilities with impact.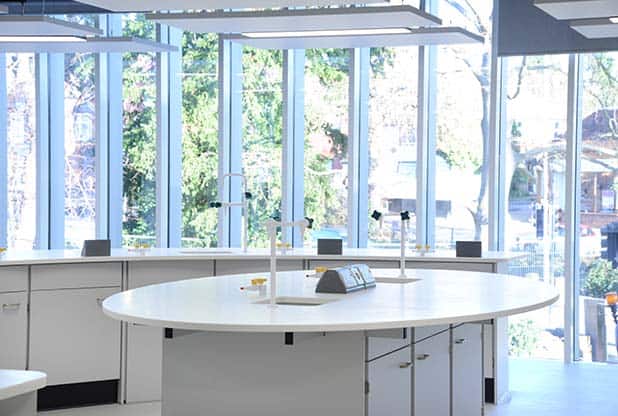 School Science Furniture Layout Options
The layouts that tend to add the most visual impact are the learning curve and island arrangements.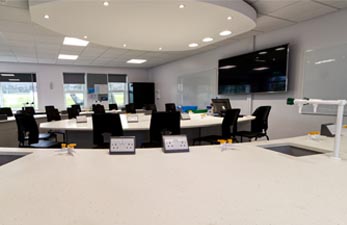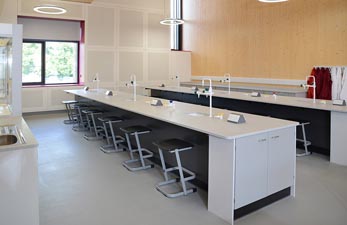 You may be restricted in which lab furniture layouts are possible depending on the size of your room and the accessibility of gas and water supplies. Initially, it is best to arrange a site visit to get your room surveyed and to discuss your teaching preference with a designer.
However, it is possible to create 'Wow Factor' in several ways and layout Is just one of the considerations.
"We wanted to create 'Wow' factor with our new lab and the transformation has been an amazing. The initial design process was very good and Klick were helpful in providing layout options and revising things until the laboratory design was signed off. The science lab is now bright and light providing an inspirational facility for the staff and pupils."
Helen Pratt – Bursar, Blackheath Prep
Using Colour to Add Impact to Your School Science Lab Design
Colour can be used strategically as part of the lab design. Coloured furniture, walls or accessories can reflect subtle branding or a school theme.
Using a highlight colour is a good way to create visual impact in a laboratory space.
One option, which schools often adopt, is to keep the furniture neutral and add the colour by using contrast accessories.
In these examples the schools' colour scheme is predominantly white with contrasting stools or trays. The brief was to create a clean fresh look whilst keeping the furniture neutral.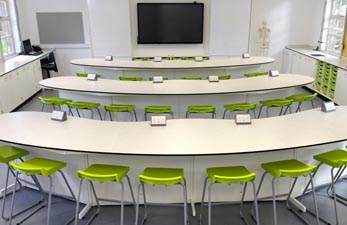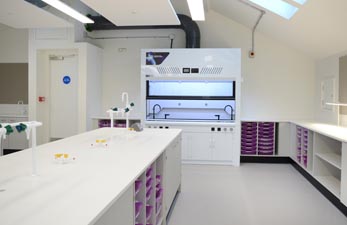 An alternative option is to introduce colour into the framework and cupboard doors. The images below show how the furniture picks out colour highlights from a large science themed mural. This creates a co-ordinated scheme and certainly adds 'wow factor'.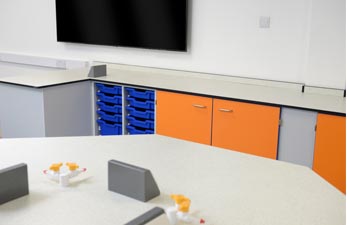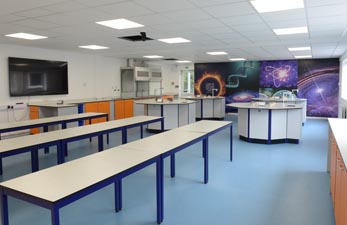 A third option is to paint a feature wall in a contrast colour. This is a relatively economical way for schools to add impact. The lab furniture is kept neutral but it is possible to make changes to the scheme by changing the colour of a wall or even just a window recess.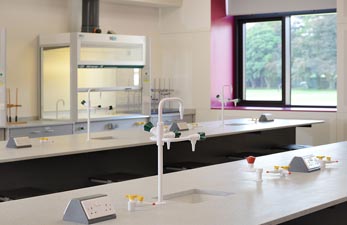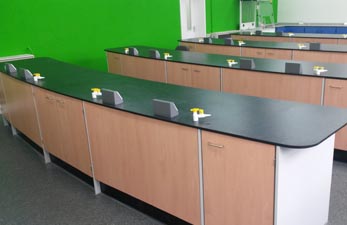 'Wow Factor' Fittings for Your School Science Lab Furniture
Have you considered using satin chrome taps?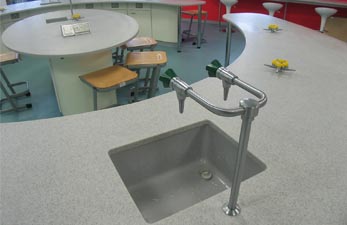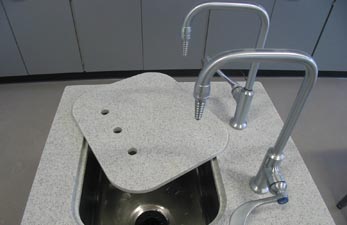 This detail creates a stylish feature for your school's science laboratory with modest additional expenditure for the overall cost of the lab.
Usually, a science lab to accommodate 34 students would require 10 sets of water taps and 18 gas taps, including one gas tap for the teacher's desk.
If you swapped standard white gas and water fittings for ones with a satin chrome finish this would increase the cost for the furniture and fittings by approximately 5%.
Whatever help you need in creating inspirational lab facilities our designers would be very happy to assist.
Our free school laboratory design service includes:
Established consultation process with all stakeholders
Outlining the project brief to include all requirements and budget considerations
Presentation of 2 & 3D Revit drawings
Specialist advice on materials for worktops and furniture colour choices
Interactive 360 degree Panorama visuals to illustrate your exact design
 A fully itemised quotation
Advice on worktop materials and colour choice
We offer a range of visuals to help our clients make decisions. These include the latest 3D CAD designs, walk throughs and moodboards.
We can discuss your project and how we can incorporate these ideas into your design. To book your free design consultation with one of our experts please email us at sales@klicktechnology.co.uk or call us on 0161 998 9726.
Further information on science furniture for schools is available here.
Thanks Clare.