08 Jun

School Refurbishment – Coronavirus Covid19 Update

This is an unprecedented and challenging time for schools, coming to terms with new guidelines and working practices.

Like many businesses we were initially concerned about the long-term impact of the Coronavirus on our future plans. As a long-established company many of our key staff have been with us for more than a decade and having built up a team of diligent people would Coronavirus threaten this?

So we were encouraged, after the first initial weeks in lockdown, to receive feedback that several schools were keen to commence school refurbishment works as soon as we were safely able to start up operations. Speaking to estates managers, we have found many want to progress with their plans in order to take advantage of schools being quieter.

Klick are currently finishing work on a number of such projects, started after the relaxation of restrictions and clarification from the Secretary of State for Business, Energy & Industrial Strategy, that the construction sector should continue to operate and support the UK economy. The schools' management teams were keen to progress their plans and had every confidence in our contracts management team to complete work without putting staff or students at risk.

At this time, more than ever, it is important to consult with an experienced refurbishment company with an understanding of the current regulations. Klick has 40 years' experience of working in schools and our team are used to planning for all eventualities.
School Fit Out Health & Safety
Klick's operations team has revised our RAMS to take into account the government's additional COVID19 guidelines.  This includes a full COVID19 Risk Assessment, Site Guidance and Method Statement on every project. All staff working on site are supplied with hand sanitiser, masks and gloves.  Site managers also carry out COVID19 toolbox talks with all trades before work commences.
Our robust Health and Safety policy now means that social distancing is in place on site and any planning for the summer will have an elongated programme to ensure different trades have the required time and space to work. This requires close attention to detail in our project management and careful scheduling.  In addition to this all Klick operatives will have the usual DBS checks to ensure safeguarding guidelines are adhered to.
Three Recently Completed School Fit Out Projects:-
Food Technology Classroom Design & Refurbishment
Dawn House School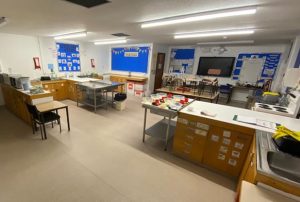 Before Refurbishment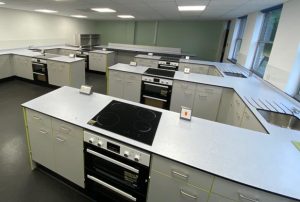 After Refurbishment

Full strip out and refurbishment including removal of store cupboard, all plumbing & electrical work, new ceiling, lighting, flooring & decoration.
Trespa worktops & furniture fitted with white doors with lime contrast edging.
Feedback From Dawn House School

"Klick made an outstanding contribution with their food technology classroom design. Their consultant was excellent in submitting layout options until our staff were happy and the 3D visualisations gave a very accurate representation of the finished room. We opted for a lime green contrast edging for the cupboard doors and we are really pleased with this detail as it lifts the look of the whole room.

The project management team from Klick discussed the programme, which had to be extended slightly to comply with COVID19 guidelines, allowing for social distancing and just one trade to be on site at any given time. The whole process was managed well with clear communication and in the end there wasn't much of a delay.  The site team were brilliant and managed the whole process extremely well. Everyone at the school has commented on the massive improvement and I would like to pass on my thanks to all the staff at Klick."

John Harrison – Premises Manager, Dawn House School
Science Laboratory Refurbishment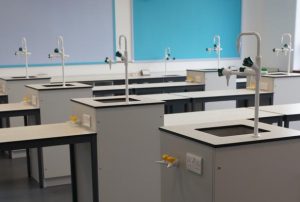 Beverley School – 2 labs
Full strip out and refurbishment including blocking up doorway, building new stud wall, all plumbing & electrical work, flooring & decoration.
Trespa worktops & furniture fitted with Graphite doors with blue contrast edging.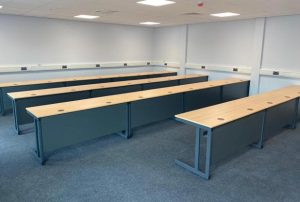 St Joseph's RC High School
Co-ordination with main contractor & fitting of Techline work benches for ICT suite.


Service Levels Maintained
Our design team are set up for remote working and have full access to our Revit CAD system for the design of all classroom layouts. Our consultants will suggest layouts to make the most of your budget and available space. Once approved the programming of the work can be arranged at a time to suit you.
As a respected school refurbishment contractor, Klick will be providing the same high levels of service. A full schedule of works will be provided by our project management team, along with updates on progress.
Specialist School Furniture Supplier
Klick can handle all aspects of design, installation and refurbishment for school science labs, food technology rooms, ICT Suites, technology and art rooms. We can supply you with the furniture and everything from lighting to flooring – to suit your budget constraints.
For further information about our cost effective one-stop-shop refurbishment service for schools click here. Our refurbishment case studies include photos of the finished projects, a summary of the project details and the total project cost.
If you are considering a refurbishment project this summer we will be happy to discuss any particular logistical concerns you may have.
Please give us a call on 0161 998 9726 or contact us by email.
Thanks Julie.