29 Jul

School Laboratory Furniture – Designed for Teaching Staff
School Laboratory Furniture Installation at Beverley Grammar School
A new laboratory is a major investment. School laboratory furniture should be robust and built to last but it should also address the unique needs of the teaching staff and science departments.
At Klick we collaborate closely with school staff and listen carefully to the detail of what is required and any specific challenges.
During the recent project at Beverley Grammar School there was a comprehensive design process in which a number of layout options were discussed and drawings submitted. A key focus for the two laboratory designs was flexibility and so both labs have loose tables to allow for the room to be re-arranged if required. However the fixed furniture selected for each lab is arranged quite differently, with the designs being dictated by the staff and their teaching preferences.
Laboratory Furniture Layouts
Separate Theory & Practical Laboratory – Lab S1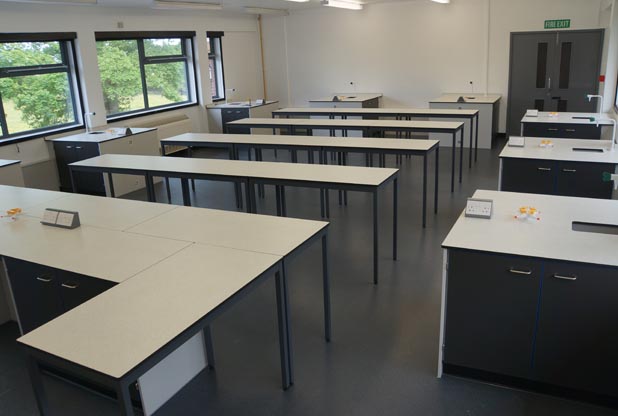 There are 8 square service pods with water, gas and electrical sockets arranged around the perimeter which are for practical experiments. Loose science tables are positioned in the centre of the room, shown here arranged in rows. This layout took advantage of the larger floor area.
Layout Benefits:-
An Ideal layout to encourage group learning
Students are focused during theory lessons as not distracted by services
Experiments can be set out in advance
Serviced Bollards with Loose Tables – Lab S2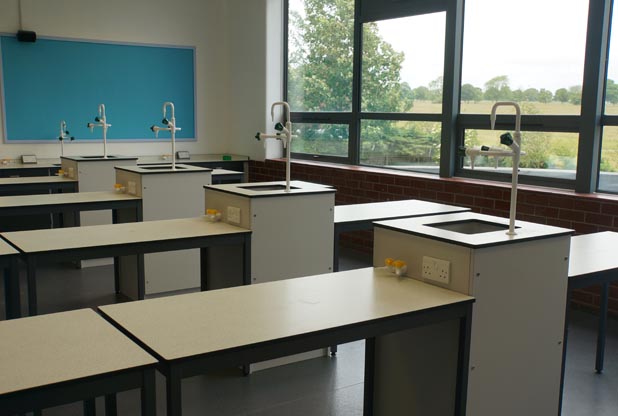 This lab has 8 individual service bollards arranged in 2 rows. The loose tables are positioned here between the bollards. Triple taps were specified which offer increased flexibility for experiments where water is required and are more orientated towards chemistry lessons.
Layout Benefits:-
Flexibility to reconfigure the room to allow for group or theory work
Allows easy access to services
Encourages group work if tables arranged around bollards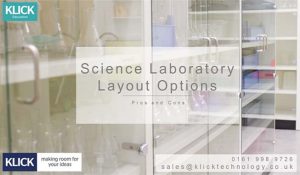 For further details view our download Science Laboratory Layout Options – Pros and Cons
Beverley Grammar School Furniture Installation Feedback

"Klick went through a comprehensive design process when reviewing the school laboratory furniture requirements for our 2 new labs. Their consultants were excellent in developing different designs for each lab which were dictated by staff preference and subject requirement. The refurbishment team were extremely well organised and set up for all additional Covid19 Health & Safety requirements. The installation ran like clockwork and the school are delighted, having worked so hard to gain funding, to finally realise our vision with well designed, high quality science labs."


Claire Hoyle, Finance & Resources Director – Beverley Grammar School

Laboratory Refurbishment Project Summary
The project involved a full strip out including blocking up a doorway, building a new stud wall, all plumbing & electrical work and new flooring & decoration.
The choice of Graphite grey for all doors, window frames and flooring creates a smart contemporary design statement for both labs. Blue contrast edging was added to the cupboard doors as a design detail.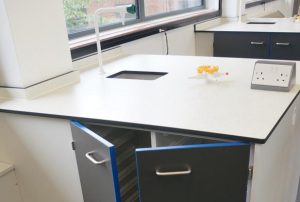 S1 – Storage in Service Pods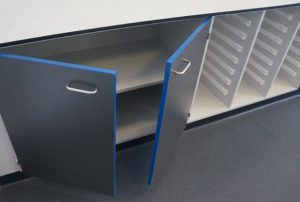 S2 – Storage in Perimeter Benching
There is provision for tray storage in the service pods in S1 and under the perimeter benching in S2.
Trespa worktops were fitted which are durable and have scratch, impact and chemical resistance properties. These factors are all critical to consider when selecting your laboratory worktop in order to ensure longevity, reduce maintenance costs and allow the best performance for students.