08 Jun

Textile Room Design – Guidelines for Schools & Colleges

Any textile room design should accommodate a range of activities, these could include designing, printing and the construction of garments.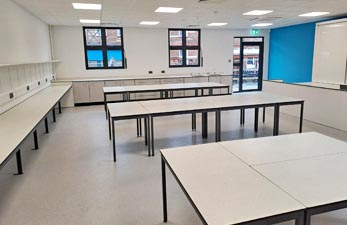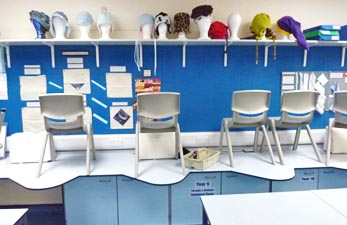 Large sinks are necessary for any dyeing and printing of fabric. These would usually be accommodated away from the sewing or design areas and have a splashback.
Storage of equipment is required and it is best to keep sewing machines and weaving equipment in a storeroom, which can double up as a changing room and therefore plenty of space should be allowed. Fabric rolls and finished garments will need to be stored and there should be space allocated for tailor's dummies.
Space should also be allowed for cutting out tables and these tables may also be used for theory lessons.
Worktops for Textiles Rooms
Worktops made from particle board or laminate can chip or splinter easily on impact.
We recommend a hard wearing worksurface such as Trespa which will withstand the wear and tear of sewing machines and other equipment being moved around the room and from storerooms.
A robust design of workbench will also help to minimise vibrations and remain stable when a sewing machine is used at high speed.
Worktop Heights for Textiles Rooms
Cutting out tables would usually be specified at 850mm high and it might be tempting to opt for sewing machine benching to be at that height to allow for the same stools to be used for both activities. However we recommend a work top height for sewing machine benching of 720mm, otherwise students can't reach the sewing machine foot pedals.
If there is no space for extra stools it is preferable to opt for all the benches to be at the same height of 720mm.
Testimonial

"Klick Technology supplied and installed the educational furniture for the refurbishment of the textiles classroom at Braunton Academy. They provided a personal and professional service from conception to completion and I was thoroughly impressed with their attention to detail both in the layout design and the finished product. This was a particular achievement as they were working to some very tight timescales and deliverability was a key issue for the School. Klick's performance was excellent and I would wholeheartedly recommend them for future school projects."
Kay Treganna – Project Architect, TFQ Architects – Re Braunton Academy

Click here for additional case study details for Braunton Academy's textiles room design.
Saw Tooth Benching for Sewing Machines