30 Oct

RAAC in Schools – Do You Have a Problem?

Some science departments are currently unable to deliver any practical science lessons due to the presence of RAAC in schools. This is a particular issue for any students taking external examinations at the end of this academic year. Klick can advise on options which can be implemented at speed to convert rooms and install temporary science facilities.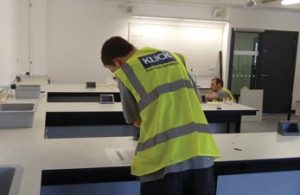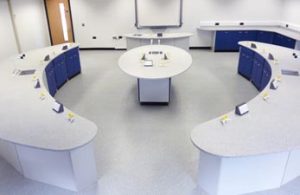 What is RAAC? Where is it Found?
Reinforced Autoclaved Aerated Concrete (RAAC) is a form of lightweight concrete and it was used for the construction of many buildings from the 1950s.
RAAC is mainly found in roofs, occasionally in floors and walls. Visually, it looks similar to pre-cast concrete and may be hidden above false ceilings.
Problems associated with older forms of Reinforced Autoclaved Aerated Concrete include a high level of deflection and corrosion and there is the possibility of it collapsing suddenly due to cracking.
The panels are porous, so they are particularly vulnerable if subjected to water penetration. Water damage can also corrode or compromise the reinforcement material causing it to break apart and worsen the state of the concrete.
RAAC Issues In Schools – What are the Numbers?
RAAC was considered an attractive option, particularly in the 1950s and 60s because it was lightweight, robust, and cost effective. It could be quickly manufactured and installed which was a benefit to building projects.
Warnings were initially issued to 104 schools after multiple beam collapses over summer, although governments have been aware of the structural weaknesses of RAAC since the mid 1990's. The priority has been to ensure the safety of staff, pupils and visitors to schools.
As per the government's most recent figures, 214 schools are affected by RAAC, although this number is expected to rise. Klick has responded quickly to this nationwide issue and is already working with 2 of the affected schools by planning remedial works to ensure a swift and safe return to normal teaching.
Reinforced Autoclaved Aerated Concrete – Support for Schools
250 temporary buildings have been ordered to help schools unable to use certain areas. Schools minister Nick Gibbs has confirmed that the government would pay for temporary classrooms whilst the RAAC issue is dealt with.
However, it has been widely reported that there have been delays to the ordering of these units, and in some cases it can be difficult for schools to get the relevant funding. Some schools have moved elements of their teaching online, whilst others are choosing to repurpose existing rooms or construct new ones. We are currently working with one school which has moved some of its science teaching into D+T rooms and plans to renovate its science and D+T rooms in stages over the next 3 years.
Modular Buildings for Schools with RAAC Problems
Many schools are opting to install modular buildings to deal with their Reinforced Autoclaved Aerated Concrete issues in the short run. Modern modular buildings are built to withstand the demands of an educational environment. The interiors can be fitted out with science labs, food technology rooms, ICT suites and many other applications. We are working with a college which has received funding for temporary buildings and has requested our help in fitting out science labs within them.
Klick has extensive experience in working with modular buildings. In one recent project at Hyde Community College, we worked with a modular building supplier, designing and installing the furniture for 2 new science laboratories. Klick also extended gas, electrical and water services from the existing building and completed the final fix. This gave the college more capacity for science teaching in a relatively short time frame.
It is possible to design the room layout to allow the furniture to be uplifted from modular buildings and refitted into new buildings in the future, which is an additional benefit especially if the requirement for additional space is temporary.
School Refurbishment Specialists
Klick has considerable expertise in this area, having built up our understanding of projects and schools' needs over the last 40 years. As such, we are happy to assist schools by stripping out affected sites, removing RAAC in existing buildings and fitting new walls, floors, ceilings and roofs.
Schools benefit from our One Stop Shop service which minimises stress, cost and disruption. Klick manages all the different trades on behalf of the school and is left with ultimate responsibility for the whole project.
We are able to co-ordinate all of the following to streamline your project:
Structural alterations
Ceilings/ Flooring (where RAAC is particularly common)
Mechanical and electrical provision
Air conditioning
Interactive services
Lighting
Windows/Doors/Partitioning
Decorating
Specialist Furniture for Schools with RAAC Issues
Klick are happy to coordinate with main contractors on sites where RAAC is already being dealt with, specialising in the design and installation of furniture for the following rooms:
Our own in-house CAD team can create bespoke designs to maximise space and budget once impacted classrooms are ready to be refitted.