05 Jan

Laboratory Construction
Laboratory Construction  – Design & Build Project Early Stages
Klick are currently working on an exciting laboratory construction project to convert an aircraft hangar into a state-of-the-art laboratory facility. The hangar was cleared out and Klick moved in to make a start.
Project details:-
One-stop-shop service providing a technical solution to convert a 1,117 sq. metre empty aircraft hangar into 5 laboratories including wet chem and a quality control area
New corridor construction to provide access to all 5 labs
Fob entry access to all lab areas
Creating an optimum working environment to maximise productivity in state-of the art laboratories, including a pressurised lab
Installation of lab furniture, fixtures, fittings and HVAC
Future proofed design allowing flexibility for business expansion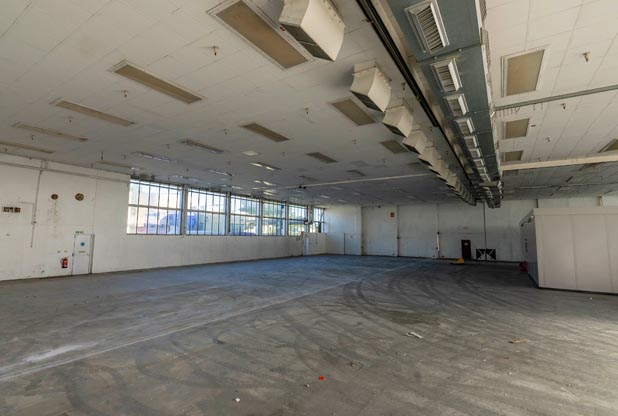 Starting the Lab Construction & the Benefits of Timber Partition Walls
Initially the client was considering two options and there was some discussion about whether to opt for timber framed stud walls or a steel partitioning system, which had been used previously by the client.
Installing timber framed partitioning is a traditional method but on this occasion it provides a better construction for the clients requirements and offers the following benefits:-
More stability in the timber partition walls
Improved insulation qualities to keep laboratories at a constant temperature
Timber partitions have better strength when used for a free-standing structure
Timber stud partitions are better for positive pressure laboratories as there are no penetrations or joints visible in plastered walls
Timber construction allows for a wider roof span without additional supports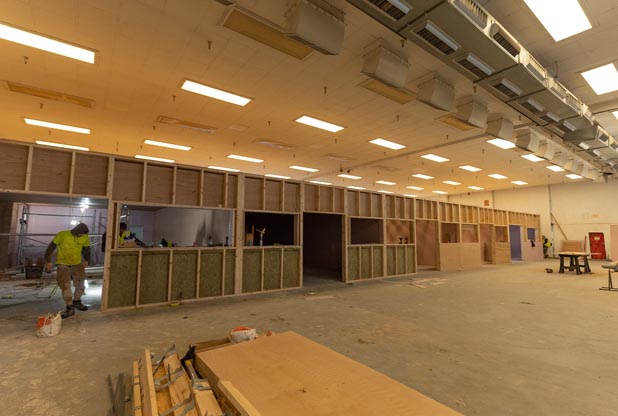 In this case the client was keen to have an unobstructed 7m wide workspace which favoured the use of timber construction in conjunction with specialist joists.
The specification required the labs to be maintained at a positive pressure which excluded the combination of a suspended ceiling with metal partitioning.
Laboratory Partition Walls – The Stages of Construction
Timber stud constructed from C16/C24 kiln dried structural timber
 Rockwool RW3 slab insulation is inserted into the panel cavity. This has excellent thermal, acoustic and fire insulation properties
 A panel of moisture resistant ply is fitted over the studwork
30 minute fire rated plasterboard is fitted
3mm multi finish plaster is applied before decoration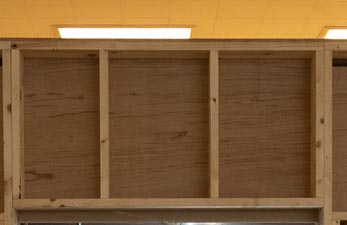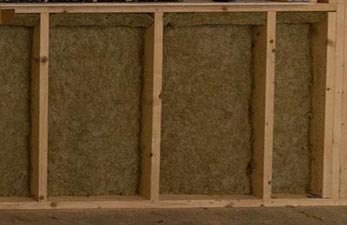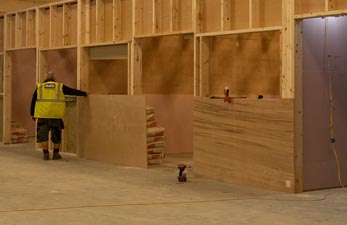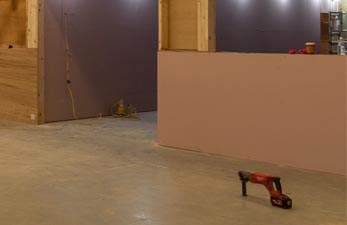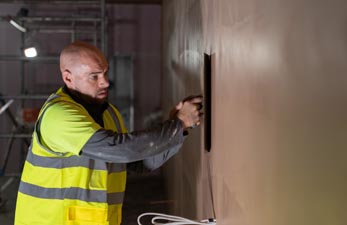 Once the partition walls are completed the mechanical and electrical team will provide the infrastructure for the labs' electrical and gas supply.
Connections will be provided for a range of specialist gases required for production techniques including Nitrogen, Helium, Nitrogen Dioxide, Carbon Monoxide, Carbon Dioxide and Oxygen.
This will be followed by the air conditioning and HVAC contractors who will provide the controlled environment required within the laboratories to make it a comfortable and safe place to work.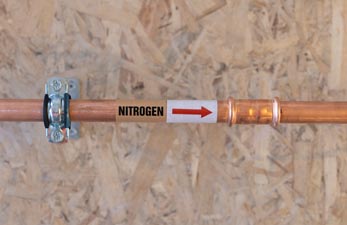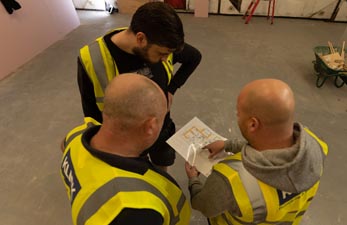 All the trades will be co-ordinated by Klick and then the specialist lab furniture will be installed to complete the project. The new laboratory and production facility will allow the client to streamline their workflow and increase productivity.
If you have a project in mind Klick can coordinate our team of experienced specialists to complete your lab construction.
Feel free to give us a call on 0161 998 9726 to discuss your project or contact us by email to discuss your plans.