08 May

Laboratory Construction and HVAC Installation Planning

When it comes to laboratory construction there are many crucial factors to consider.

It is essential to select an experienced contractor who can design a scheme which allows the streamlined integration of your lab furniture, equipment and HVAC (heating, ventilation and air conditioning).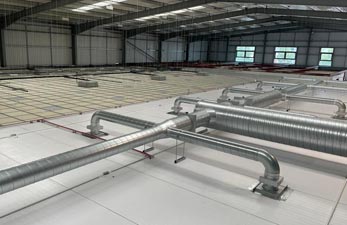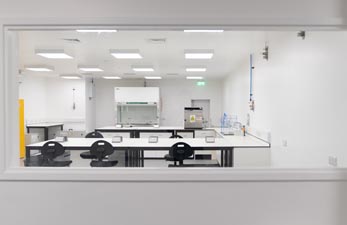 Before starting a project it is important to consider plans for growth, how this will impact the layout and any equipment requirements. Discussions with all stakeholders are key in order to establish existing workflows and any plans for expanding the business. Any new layouts should factor in expansion in terms of space but also focus on any future investments planned for new equipment. It is essential to understand any long-term goals for the client in order to future proof the lab design.
HVAC Requirements for a Lab Construction Project
During the construction of laboratories, HVAC requirements are an essential part of the building design and should be considered during the early stages. Collaborating with laboratory users, HVAC consultants, and M&E specialists is critical to establish a strategy for suitable HVAC provision for laboratory facilities, so that one system does not outbalance the other.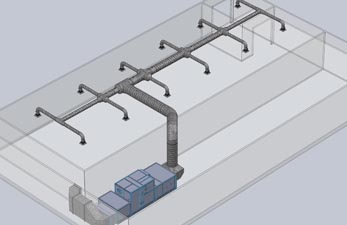 Proper HVAC design is essential for maintaining a controlled environment to conduct experiments and research. This is especially important in environments working with hazardous materials, chemicals and pathogens. A well-designed HVAC system can help mitigate airborne contaminants, ensuring the safety of lab workers and the integrity of the experimentation.
HVAC provision for a project is a significant resource, requiring both an initial capital investment and ongoing cost of energy consumption. Any updates to your HVAC system, after the initial installation, can be very costly and therefore it is important to carefully consider all eventualities at the planning stage.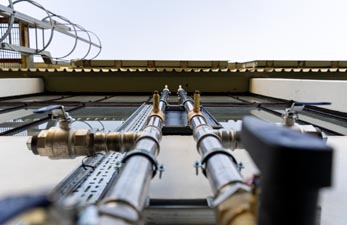 Space is also a consideration, as any lab facility must accommodate the network of ducting and the plant room within the building footprint. This underscores why it is necessary to work with experienced HVAC professionals to ensure thorough planning and optimal performance.
When planning an HVAC system, several factors need to be considered, such as the type of materials being handled, the layout and size of rooms, the activities being performed, the target temperature, humidity and air pressure level.
In certain laboratory environments, pressurising the air is required to reduce contamination on work surfaces and maintain a clean environment.
Heat recovery units are often fitted into laboratories and pharmaceutical environments to utilise heat that is usually expelled to the ambient air.
Fume cupboards will have an effect on the number of air changes required and, therefore, the required ventilation, and filtration needs will depend on the level of hazard of the materials processed.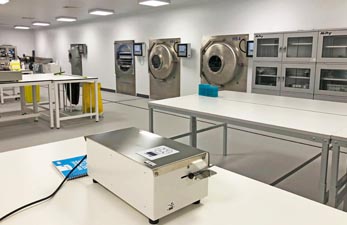 Clean rooms will require controlled temperature, humidity, air pressure, and ventilation for precise experimentation.
Testimonial

"Biofortuna enjoyed an excellent relationship with Klick. Frequent communication with their Contracts Manager was enormously helpful in delivering the project to specification and keeping the timetable on track.  The Klick team were extremely proactive and were flexible and pragmatic when changes were required.  Biofortuna now have a cutting edge manufacturing and laboratory facility with state of the art functionality which suits our needs perfectly.

There is flexible workspace where our laboratory and technical teams can work collaboratively, which will be brilliant for us.

The quality of the whole facility is absolutely top notch."

Dr Nick Ash – Chief Executive Officer, Biofortuna
Lab Construction Example Project
Klick have been working on a project to convert an empty warehouse into 5 state-of the art laboratories including a pressurised lab, wet chem and a quality control area.
A key factor of the project was to understand the processes and different materials required for the client's research into hydrogen fuel cells.
Our contracts team have provided a technical solution to create a positive pressure environment of make-up air and extraction. A complex balance is required to control the lab ventilation system with a network of ducting to allow airflow in and pipework throughout the building.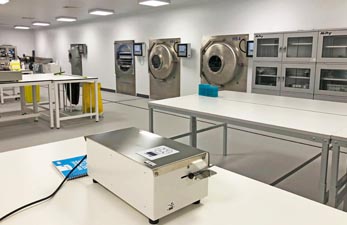 It was particularly important to consider all the equipment and machinery required for the pressurised lab to accommodate the current set up and any future needs, to maintain the room in a state of positive pressure.
In conclusion, HVAC is a crucial element of laboratory fit-out, and it should be given priority during planning and design phases. This will help ensure safety, maintain integrity, and provide a conducive environment for scientific inquiry for the foreseeable future.
Collaborating with experienced HVAC professionals and laboratory users will ensure construction projects achieve the optimal balance of safety, function, and efficiency.
As a specialist lab fit-out company Klick have an understanding of lab furniture, the construction process and the complexities of the HVAC requirements.
This improves the integration of the project and makes the whole process more seamless for the client.
Lab Construction Services Offered by Klick:-
Mechanical and electrical provision
Fume extraction
HVAC
Specialist gas systems
Network cabling and data services
Lighting/Ceilings/Flooring
Windows/Doors
Decorating
Building works
Furniture & Fittings
Mezzanine floors
Partitioning