23 Apr

Lab Furniture Flexibility
Flexibility is Key in Laboratory Furniture Design
With the increased emphasis on scientific research over the last year we have experienced a significant upturn in lab furniture enquiries for commercial clients and it is interesting to review a selection of recent projects.
To keep pace with the ever-changing research landscape we are seeing a move towards more flexible layouts with an increased level of mobile furniture.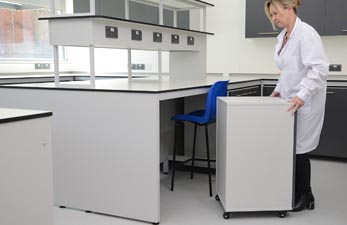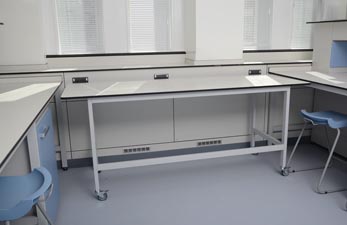 Mobile laboratory furniture is advantageous for labs where staff numbers fluctuate or businesses have aggressive growth plans. Some commercial laboratories are set up to allow regular modifications to their layout and workflows according to changes in research requirements. It may even be that there are medium term plans to move into larger premises and mobile furniture is cost effective because it can create additional workspace at relatively short notice but then can be relocated to new buildings.
Cost Effective Mobile Furniture for Laboratories
We have recently completed a large order for mobile tables with castors.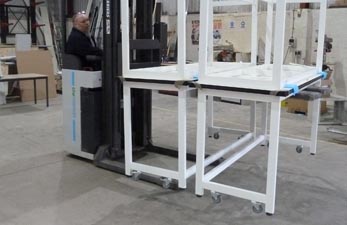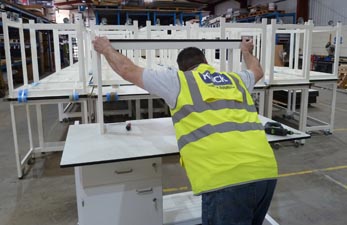 The quantity of furniture needed to equip the sizeable lab required a cost-effective approach. Standard castors were fitted in combination with extending feet. When in position the feet can be lowered providing a stable base. It can be more difficult to wind the feet up if there is heavy equipment is on the bench and so whilst this is a cheaper option it is slightly less convenient if the benching is to be frequently moved.
Further orders have been completed for BAE Systems & Almac for our heavy-duty mobile laboratory benches with levelling castors.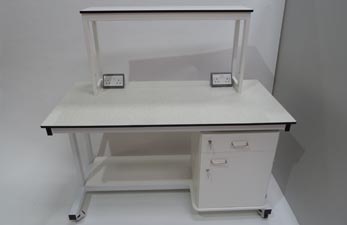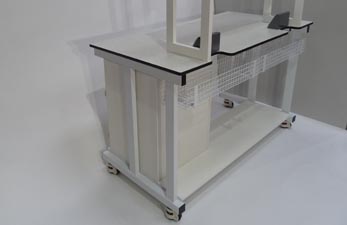 These workstations are designed for high intensity use and can take a load of 125kg when moving on the castor wheel, which increases to 250kg when static. They offer ultimate flexibility as they can easily be moved to different locations even when loaded with heavy equipment and are an excellent solution to providing additional workspace in laboratories.
These flexible units can be supplied with a lower shelf, reagent shelving and optional cabinets. Electrical outlets can be fitted to the worktops and cable management systems can be added to the rear of mobile laboratory workstations.
The workstations can be positioned adjacent to fixed furniture or can create a larger work area when units are pushed together.
Both of the above mobile units were fitted with 16mm Trespa Toplab base which is heavy duty and scratch resistant and also easy to keep clean. Mobile workbenches can be fitted with alternative worktops to offer different properties. Velstone is a 25mm solid surface material which is non porous and has a smooth seamless surface with anti-bacterial properties and aesthetic appeal.
Mobile lab benches are suitable for use in research, industrial, university and medical laboratory environments.
We've had excellent feedback from clients that have selected mobile furniture as an option to maximise flexibility:-
"Klick's furniture is of excellent quality and by combining fitted storage units with mobile lab furniture we can offer increased flexibility for our laboratory customers."

Building Surveyor, Bruntwood
Fixed Furniture With Mobile Lab Cabinets
Our design team are currently working on a project for an Oxford based research client. They have established processes and use equipment such as centrifuges and mass spectrometers for specific research.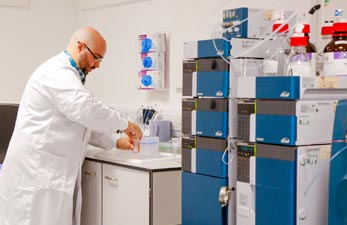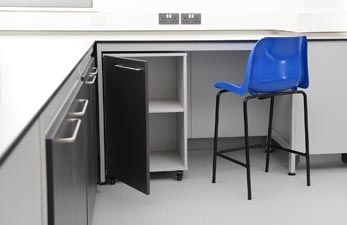 Because of the predominance of heavy bench top equipment they have opted for fixed benching which can be built to accommodate the specific weight of the machinery. Back to back 'A' frames will form double width peninsular islands.
However, their lab staff want to maintain a degree of flexibility and have therefore requested underbench mobile cabinets.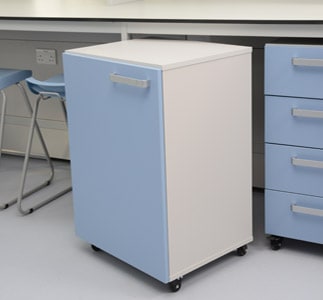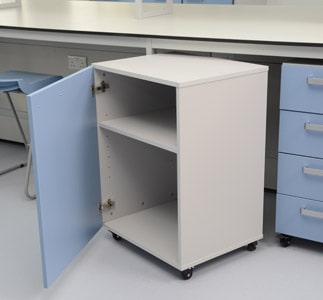 These can easily be relocated by the user without disruption to the working space and are supplied with robust lockable castors for easy manoeuvrability.
There are a variety of solutions available depending on your specific laboratory processes. Our consultants can discuss work top materials, storage options and ways to improve your workflow.
Please follow the links for further information on mobile solutions or fixed laboratory furniture.
If you would like advice on the best furniture option to create a flexible workspace please feel free to email us or give us a call on 0161 998 9726.