01 Feb

Lab Furniture Design Trends 2021
Lab Furniture Design Trends 2021
There is no doubt the workplace has changed significantly over the last year both in terms of lab furniture design and the broader office environment.
For essential businesses there have been necessary changes made to offices with the addition of screens and extra spacing.
Prior to this we saw a general trend away from traditional ranks of desks to a flexible layout which more reflects how individuals work and open plan offices with breakout spaces have become increasingly popular.
Whilst working from home offers benefits to employees, some aspects of connecting with others are harder online and the office may evolve further into a space more dedicated to collaboration.
Lab Furniture Design – Flexible Labs
In laboratories the trend for flexibility has been accelerated by the Covid 19 pandemic. Work requirements and staffing levels can change rapidly and there may be a need to move equipment, review processes and quickly change furniture layouts.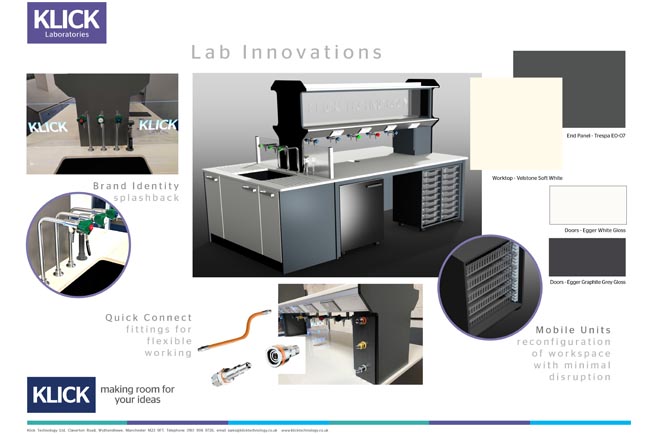 Flexibility is key in a modern laboratory and furniture systems need to be designed to facilitate the changing needs of today's research and industrial laboratories. Good design can improve workflow and make efficiencies.
We have recently seen a greater demand for mobile laboratory furniture which can easily be relocated without disrupting workflow. It is not practical for scientists to work from home and mobile furniture is a benefit when allowing for social distancing in labs where layouts need to be changed.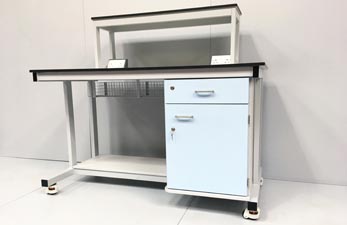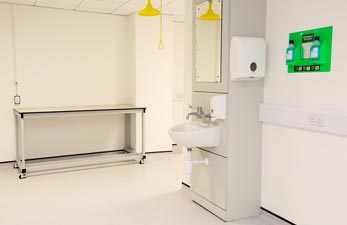 An additional benefit to mobile lab furniture is that layout changes can generally be made by the lab user instead of calling on outside experts, especially when using quick connect service fittings. This reduces any downtime required for refurbishment work which has obvious economic benefits.
Lab Collaboration and Furniture Design
Establishing in-between spaces that encourage teamwork and connectivity between employees is key in allowing spontaneous collaboration for research talent. If space permits, it is also useful to have a multifunctional conference area that can also be used as a social space.
Team-based collaboration spaces continue to be a trend in the laboratory environment, even with the pandemic. This provision of space for whiteboarding, problem solving and sharing of ideas is a major benefit to employees working on projects. Whilst some of these meetings are currently taking place on-line, this collaborative approach, which often starts in universities, is key and will remain fundamental to scientific research.
Large team tables are a current trend and are ideal for collaboration. These can be supplied with power and lighting options and used for meetings or for individual 'hotdesking'. They help create a more relaxed environment and are also relatively space efficient.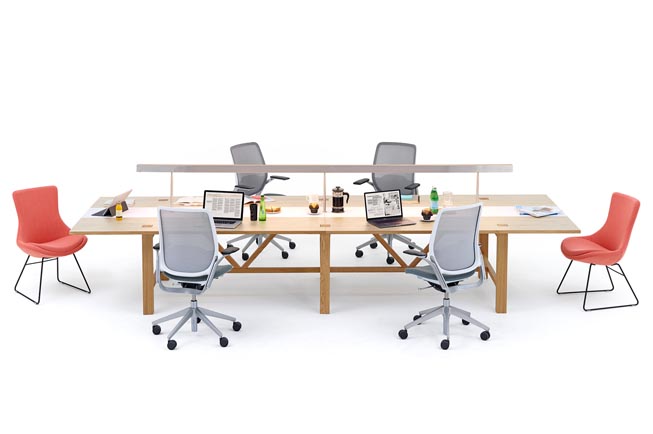 Laboratory Breakout Space Design
Some employees prefer a more relaxed work environment and may drift away from their desks to reception areas or work canteens. Furniture designed for this casual use, can be supplied with charging points and can help with staff productivity.
Meeting pods are the ultimate in flexibility. These freestanding units can be beneficial in providing a quiet space for private meetings or team work, particularly if the rest of the office is open plan. They are demountable and can be relocated if the workplace needs a major re-design or completely relocating, which is useful for leased properties.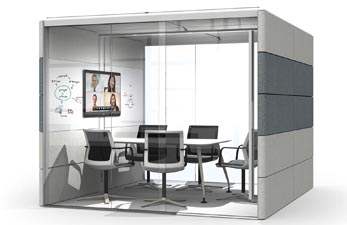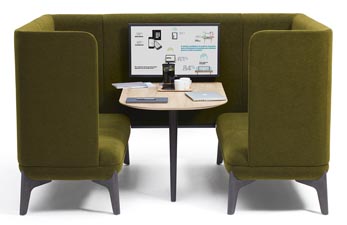 Seating booths provide a structured space for one-to-one or small group meetings and are also useful for dividing up space for social distancing. If booths can host informal meetings that would normally occupy a larger fixed meeting room, it helps alleviate pressure on meeting room schedules and makes spaces more flexible.  Comfy sofas can welcome guests but can also provide ad-hoc meeting areas.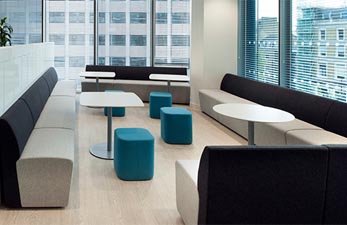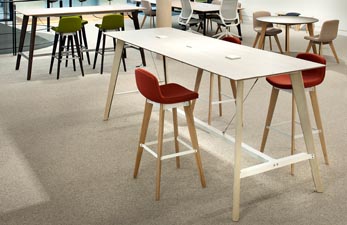 Designing spaces that are employee focused can improve efficiency and also morale. The right laboratory environment and the impression you make on both new and existing talent, can help with recruitment but also retention of key team members.
Klick can design laboratory spaces but also assist with the broader office environment. To create the ideal workplace it may be necessary to build partitions or mezzanine floors.  Please follow the link for more details about our laboratory design and construction service.
If you have a project in mind our designers would be happy to help. Please email or call 0161 998 9726 for advice.