27 Oct

Klick Exhibit at Lab Innovations, Birmingham NEC 2nd & 3rd November 2022
Lab Innovations Exhibition
Klick Laboratories will be showcasing our latest laboratory furniture designs on stand B64 at Lab Innovations.
Two main themes will be sustainability and flexibility.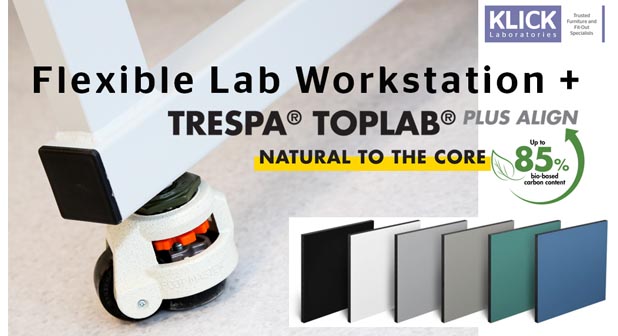 Klick will be exhibiting our Flexible Lab Workstation with a NEW innovative worktop material Trespa TopLab PLUS ALIGN.
Lab Worktop Material with Improved Sustainability
Shown in Pastel Green, the new ALIGN worktop material has all the benefits of Trespa TopLab PLUS but with 85% bio-based carbon content to support commitment to the use of renewable materials.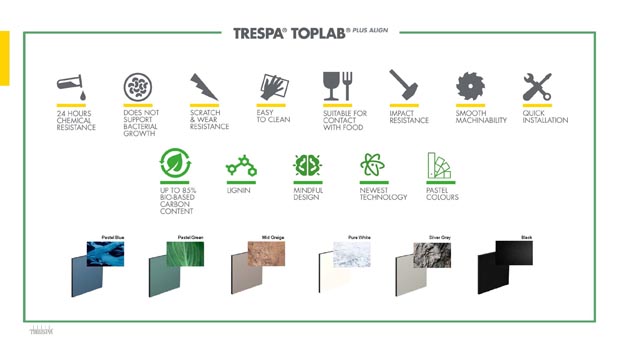 Visit our stand B64 to view our mobile unit and find out more about Trespa TopLab PLUS ALIGN.
Laboratory Flexibility
Klick's mobile workstations are a flexible solution providing additional workspace in laboratories.  They can easily be moved to different locations to suit workflow requirements.
Designed to facilitate the changing needs of today's research and industrial laboratories Klick's mobile units are extremely sturdy with a MAXIMUM LOADING of 250g when stationary.  They are designed for HIGH INTENSITY USE, fitted with robust lockable levelling castors and are ideal for accommodating and transporting heavy equipment.
The example at the show is fitted with a reagent shelf, drawer cupboard and electrical trunking, but the units are made to order and can be configured to suit client requirements.
Our consultants will be on hand to help address the practical needs of scientists and facilities managers in setting up efficient and flexible laboratories.
Visit our stand to discuss how to improve laboratory workflow and efficiencies for Research, Healthcare, Industrial and University environments.
Click here to register for Lab Innovations 2022.
If you would like any advice on setting up a new laboratory our consultants would be very happy to help.
Please email us or call today on 0161 998 9726.
Thanks Clare.