21 Jun

Klick 2019 Design Trend Predictions and Tips – Part 3 Research Laboratories

In the final part of our three-part design series, we will be focusing on the research laboratory industry. As teaching and research develops within the scientific community laboratory design will continue to evolve and furniture provision needs to reflect this progression.

Supporting Collaboration

We are seeing an expansion of collaborative R & D centres, where science parks are supporting start-up companies and offering support and mentoring. These provide research lab and office space on a flexible basis with immediate access to facilities that would not normally be financially viable to small fledgling companies. This set up has the benefit of being part of a community and allows collaboration between scientists.

A laboratory layout can be configured to support collaboration. For example, establishing in-between spaces to encourage teamwork and connectivity between researchers. Mobile laboratory furniture can be useful as units can be re-configured to allow for different group sizes as the research team grows. A well designed laboratory can create an inclusive and supportive environment that is focused on employee wellbeing.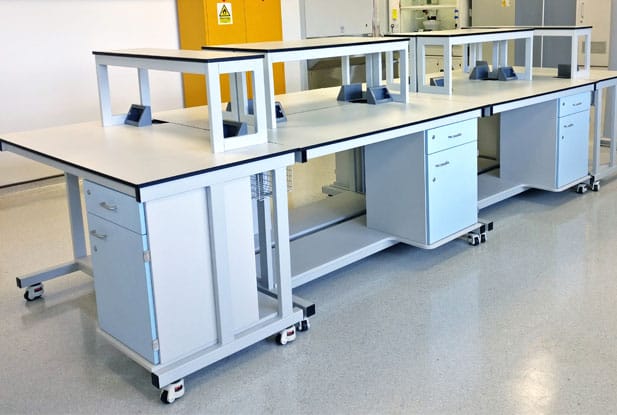 Mobile Units at Science Park Research Laboratory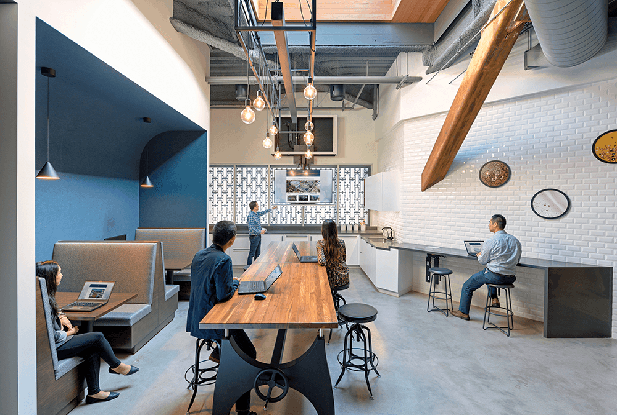 Multifunctional space allowing for presentations or individual work.
Image Source: Form A Space
Furthermore, many research projects require input from external sources. If space permits, it is useful to have a multifunctional conference area that can also be used as a social space for research talent. Creating these in-between spaces allows for spontaneous collaboration between research talent.
Flexibility in Research Laboratories
A flexible laboratory space is a continuing trend which can deliver long-term return on your investment.
It is important to design a flexible laboratory space that can be adapted to accommodate the inevitable changes that will take place within the scientific research field. Mobile laboratory furniture can be included as part of the design and helps ensure the longevity of the space. Instead of calling on outside experts to adapt your lab, simple changes can be made by the laboratory user, preventing any downtime for refurbishment work. This trend will no doubt be adopted by many laboratories because of the economical saving it guarantees.
Laboratory Design Attracts Talent
It is important to make the laboratory environment appealing to potential employees. Due to a shortage of research talent it can be persuasive to have an exciting lab space with aesthetic appeal and facilities.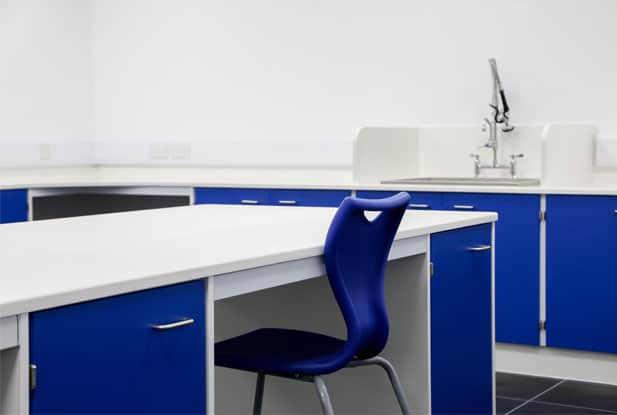 Veterinary Pathology Laboratory
The design of laboratories is playing a more crucial role in acquiring and retaining employees. According to Ross Polley, our laboratory consultant with over ten years' experience in the industry, "it is important to consider the look and feel of a laboratory space as well as the practicalities." Inspirational facilities that provide a streamlined and user-friendly workspace, will help attract potential new talent and retain existing staff.
Celebrating Science
Science parks not only provide exciting laboratory facilities for research talent but can also be inspirational spaces for the community to visit. Schools in particular are arranging trips to expose students to science parks and encourage them to join the field. At Queensland University of Technology's new Science and Engineering Centre they have an interactive installation called 'The Cube' to entice visitors to the park.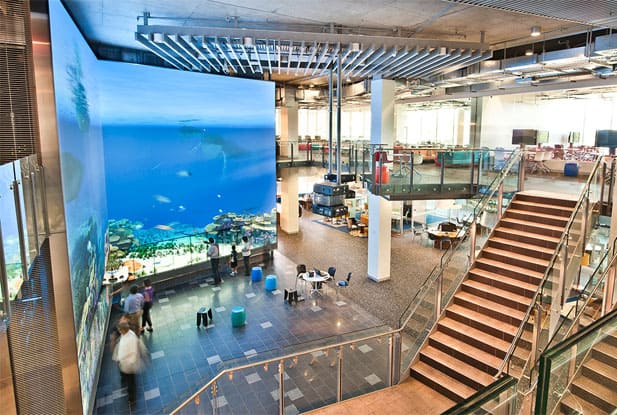 Image Source: Visit Brisban
Highly specialised laboratories are no longer being hidden away but rather put on display. This provides a fascinating insight into scientific research and is very much a celebration of science.
Energy and cost saving solutions
Laboratory fume cupboards are a necessity in most research and industrial laboratories. Fume cupboards, in particular, use a lot of energy. With rising fuel costs and limited resources careful consideration needs to be taken to ensure the most energy efficient fume cupboard is selected.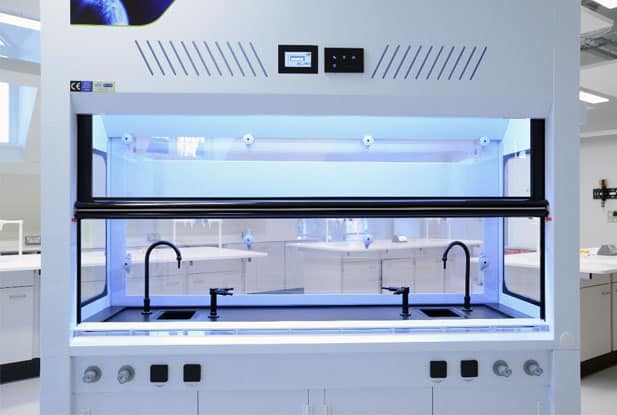 Tonbridge School Science Laboratory – ISG Fume Cupboards
Variable Air Volume (VAV) controlled fume extraction systems are increasingly selected by research and industrial laboratories because of the energy and cost saving benefits. VAV fume cupboards operate at minimum exhaust volumes when the sash of the fume cupboard is closed. Furthermore, VAV airflow controllers reduce energy waste this in turn reduces carbon emissions. Reducing emissions is a positive step to help reduce the effects of climate change.
We hope you enjoyed our design trends and tips series. Make sure to have a look at our other two articles in this series focusing on Education and Healthcare. Should you have a project in mind please do not hesitate to call us on 0161 998 9726 or email us at sales@klicktechnology.co.uk.
Thanks, Clare