17 Sep

Managing Storage in a Healthcare Environment

In a hospital or medical environment, effective hygienic storage is essential in order to manage inventory in both an organised and safe manner. According to The Nursing Times, nurses spend an hour each shift searching for equipment. Using the correct medical storage medium ensures products are easily identifiable and quickly accessed.  This indirectly saves money through reduced picking time.

Whilst we offer bulk storage to suit all budgets, here we look at our Stainless Steel and MetroMax Polymer racking systems.  These are primarily for use within Sterile Services, Theatres, Pathology Laboratories and other clinically sensitive areas.  These sterile shelving units can be purchased easily by contacting us directly or from our online shop, where you will find additional product details and key features.

Stainless Steel Roller Racking Storage/ Chassis System

In order to maximise space utilisation, condense storage space or free up space for other uses, we offer Stainless Steel Roller Racking that can be used in conjunction with all our medical shelving systems.

It is manufactured in Grade 304 high quality stainless steel and designed to fit your space. This bespoke racking system is also referred to as a Chassis Racking System. It delivers an ideal solution for high density storage.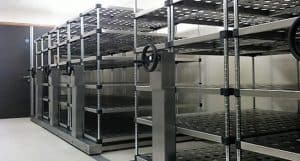 Key features of our Stainless Steel Roller Racking:
Mechanical wheel operation to access "active aisle" this maximises the available space.
No trip hazard for users, no ramps to impede trolley use when loading or picking.
Adaptable to suit available space.
This system can be designed and manufactured to accommodate any of our racking systems. This includes but is not limited to Stainless Steel Solid Shelving or Powder Coated Racking.
Ergonomically designed with high loading capacity.
Stainless Steel Racking Storage 
Our premium range of Stainless Steel Shelving is manufactured in the UK. This is a simple but effective racking system and an ideal storage solution for hygiene sensitive areas, because of its easy to clean and hygienic finish.
This Stainless Steel Shelving is suitable for sterile services cooling racks, main theatres stores / pack stores, pathology, laboratories, fridges / freezers / cold stores and kitchens.
We offer 3 shelf variations to suit particular requirement / performance / features.
Wire –         Grade 304 Stainless Steel wire format shelving, manufactured using 6mm and 4mm elctro-polished stainless-steel wires. This allows both airflow and light penetration.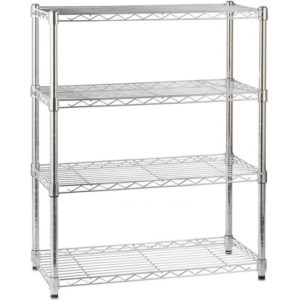 Perforated –     Fabricated in 1.5mm Grade 304 Stainless Steel with a DP1 finish, smooth shelf with no lips (no tear risk to Sterile Instrument Packs).  This allows for partial airflow via pressed & dished perforations.
Solid –     Fabricated in 1.5mm Grade 304 Stainless Steel with a DP1 finish, smooth shelf with no lips (no tear risk to Sterile Instrument Packs) This shelving is very easy to wipe clean.
MetroMax i Mobile Polymer Shelving 
Our range of MetroMax i Polymer Shelving is fabricated with advanced polymers that guarantees high performance and lifelong robustness. The surface is smooth and easy to clean to ensure hygiene and safety.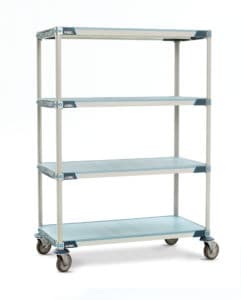 This storage system has proved extremely useful to many of our clients: –
"We have actually been incredibly satisfied with the MetroMax i polymer racking. As a result of the positive feedback, I am now looking at obtaining some more for the laboratory."
Process Development Automation Engineer
This is the ideal sterile shelving system for wet or humid environments, walk-in coolers, sterile areas and chemical storage.
Key features of the MetroMax i Polymer Shelving:
MetroMax i shelving offers lifelong durability.
The strength of steel and a lifetime warranty against rust and corrosion.
Posts are all-polymer.
Removable polymer shelf mats and smooth surfaces promote easy routine cleaning and protect packaged supplies from unwanted damage.
Supplied flat pack, simple to install (can be assembled by hand – no tools required).
This racking system is an ideal sterile storage solution for products such as consumables, sterile packs and sterile containers. The range is extremely flexible, being suitable for any medical environment including hospitals, vets and clinics.  MetroMax i Polymer Shelving can also be used in food production and museums.
We offer a wide range of storage systems for healthcare environments available from our online shop. We have experience in supplying NHS Trusts and private hospitals nationwide. Take advantage of our decades of experience and find out how our storage systems can make the most of your available space. To order any of the items featured in this article click here.
Give us a call on 0161 998 9726 or email us at sales@klicktechnology.co.uk if you have any queries about our sterile storage systems.
Thanks Richard.