Klick can design an inspirational research laboratory, providing a streamlined & user-friendly workspace, which will help attract potential new talent.
We have extensive project management experience and can iron out all the glitches to minimise any disruption to your working routine.
In the exciting field of scientific research there can be very specific challenges to setting up an efficient laboratory which addresses the very practical needs of scientists today.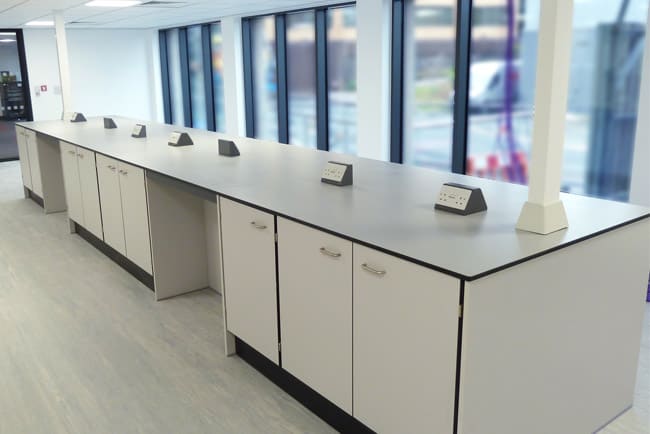 Expansion – Build in flexibility and consider an element of mobile furniture to allow for growth and changes in processes/equipment requirements.  This will avoid the upheaval of moving to larger premises as your business takes off.
Lab downtime – Allow for easy access to services so maintenance can be carried out quickly to minimise laboratory downtime.
Optimum working environment – In a busy lab it is important find a cost effective HVAC solution which offers a comfortable level of heating and an acceptable level of air quality.
Collaborative spaces – Provision of breakout areas is also key to allow space for scientists to interact, discuss their research and share their ideas.
Klick has over 35 years' experience in laboratory design and will build a research laboratory that is tailored to your needs.   
We offer a competitively priced end to end solution for research laboratories, providing a full design and nationwide installation fit out service.
Our consultants follow an established consultation process that allows you to feedback all the requirements for your new lab which includes: